Retail / Chamblee - Brookhaven / 23,650 SF / 0.818 Acres / fronting Peachtree Road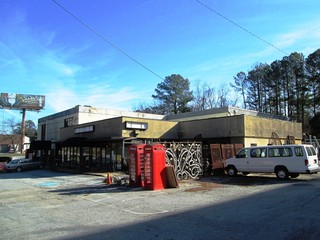 Location:
Atlanta, GA
*Point your mouse cursor on the picture above to see additional photos. Please look for the arrows and click on the "right" arrow.
Please call 770-241-5658
INVESTMENT HIGHLIGHTS:
• Offered at $3,100,000
• Irreplaceable strategic real estate location between Chamblee and Brookhaven
• Direct road frontage on Peachtree Road
• Previously used as a successful antique shop for last three decades
• Various use potentials
• Development opportunity at a prime area situated between Chamblee and Brookhaven
MARKET HIGHLIGHTS:
• Chamblee has recently seen a resurgence of developments involving notable developments including several high profile mixed-use, retail, and medical developments including Solis Parkview, Olmsted, Peachtree Station, and Mercy Care (part of St. Joseph's Health System) all completed in 2017 alone (see page #11 of the brochure for general area where these developments occurred in Chamblee)
• There are still on-going projects in Chamblee including Trackside currently under construction consisting of 80,000 ± Class A office space and 13,000 ± SF of retail likely slated for 2018 completion date
• Copy and paste below link for more information about Village Commercial zoning district in Chamblee
https://library.municode.com/ga/chamblee/codes/code_of_ordinances?nodeId=PTIICOOR_APXAUNDEOR_TIT2LAUSZO_CH240GEUSRE
LOCATION HIGHLIGHTS
• Easy access to I-285 and I-85
• Direct access to Peachtree Road
Please call 770-241-5658
All information above has been obtained from sources believed reliable and is subject to change without notice. No warranty or representation, expressed or implied, is made as to the accuracy of information contained herein. It is the responsibility of each prospective tenant and/or buyer, or any interested party to independently confirm its accuracy and completeness of any information.
Please call 770-241-5658
Ben Choi
Coldwell Banker Commercial Metro Brokers
#6783204800
4783 Peachtree Rd
Atlanta, GA 30341
View Map
Total Square Footage:
23,650 SF